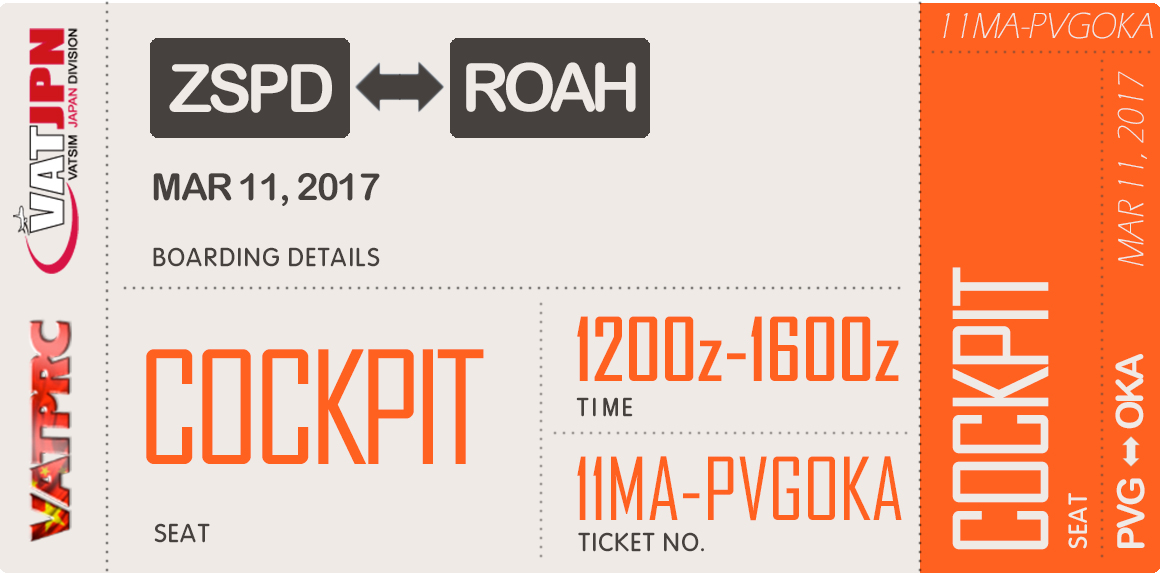 VATPRC and VATJPN are delighted to bring you our Shanghai-Okinawa Citylink event. The event will be held on Saturday, Mar.11th, from 1200z to 1600z, with full ATC coverage on both sides. We are looking forward to seeing you on the scope!
Event Date and time
Saturday, March 11, 2017, 1200z – 1600z, 2000CST – 2400CST

Featuring Airports
Shanghai Pudong International Airport (ZSPD)
Naha Airport (ROAH)

Route
ZSPD – ROAH
LAMEN A593 POTET A586 ONC A582 OKUMA
ROAH– ZSPD
CHERY ONC Y579 POTET Y60 ONIKU A593 DUMET
Charts
eAIP People's Republic of China (AIP -> AD)
AIS Japan

Scenery
Shanghai Pudong International Airport (ZSPD)
[FSX/FS9/P3D-PAYWARE] [FSX/X-PLANE-FREEWARE]
Naha Airport(ROAH)
[FSX-PAYWARE] [FS9-PAYWARE] [FS9-FREEWARE]
RVSM Rule
China implement RVSM in Metric level system. For details, Please visit Chinese RVSM
VATPRC 有你更精彩
You make the difference!