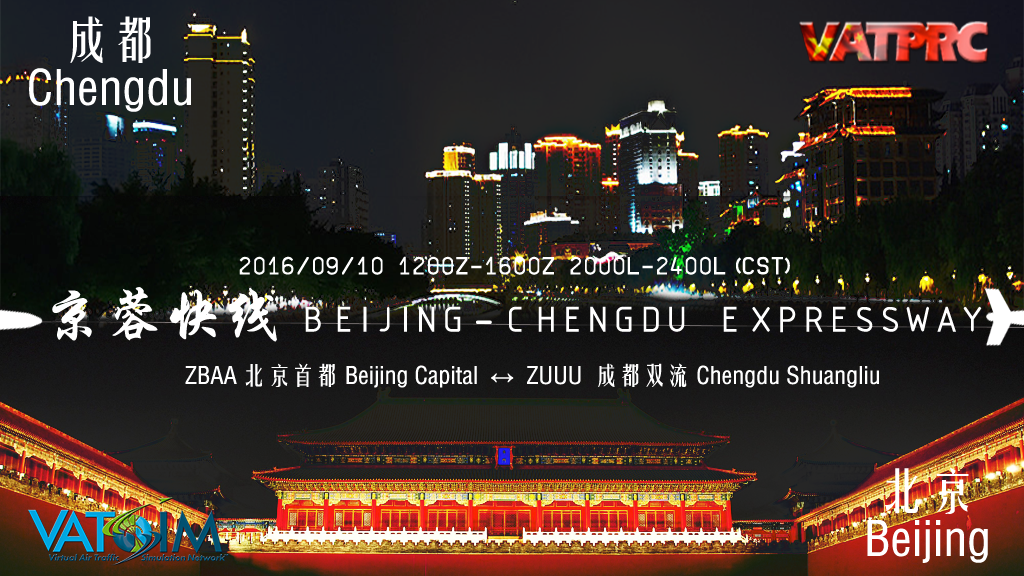 VATPRC delightly invited you join our brand-new "Expressway Event": Beijing – Chengdu Expressway. In the real world, more than 65 flights are operated by 4 different airlines (Air China, China Southern, Hainan Airlines and Sichuan Airlines) on this route everyday. Come and join us on this Saturday, and we hope we can see you on the scope.

Event Date and Time
Saturday, September 10th, 2016, 1200z – 1600z, 2000CST – 2400CST

Featuring Airports
ZBAA Beijing Capital International Airport
ZUUU Chengdu ShuangliuInternational Airport

Route
ZBAA – ZUUU
RENOB G212 NUGLA W514 OD G212 SUBUL W29 WFX

ZUUU – ZBAA
JTG G212 OKVUM W134 UBLAT B215 BOBAK

Scenery
Beijing Capital International Airport
[FSX/XPLANE10-FREEWARE]

Chengdu ShuangliuInternational Airport
[FSX/XPLANE10-FREEWARE]

RVSM Rules
China implement RVSM in Metric level system. For details, Please visit Chinese RVSM


VATPRC 有你,更精彩!
You make the difference!