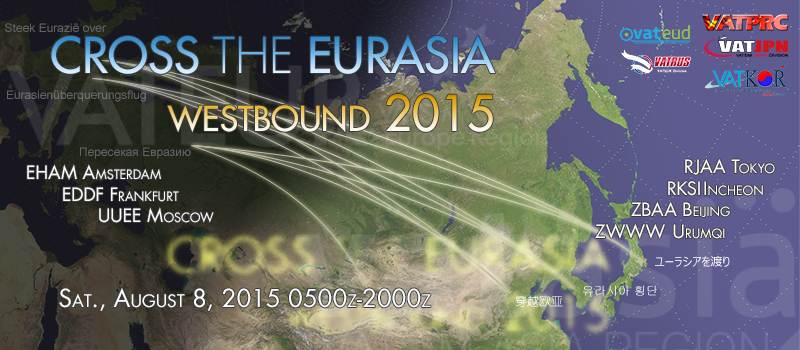 Welcome to this year's brand new event held by two major regions of VATSIM:
Cross the Eurasia 2015 Westbound! Divisions VATEUD, VATJPN, VATKOR, VATPRC and VATRUS are participating in this event, and the route passes through China, Japan, Korea, Mongolia, Russia and various European countries. It doesn't matter whether you like 12-hour long haul flights, or just want to experience different ATC in European and Asian countries as there will always be a route for you. What are you waiting for? Hop on your favorite aircraft, book your slot, and power across the largest continent on earth!
Event Time
Saturday, August 8th, 2015 0500Z-2000Z
Participating Airports
Asia:
Beijing Capital International Airport (ZBAA)
Urumqi Diwopu International Airport (ZWWW)
Tokyo Narita International Airport (RJAA)
Incheon International Airport (RKSI)
Europe:
Amsterdam Schiphol Airport (EHAM)
Frankfurt Airport (EDDF)
Moscow Sheremetyevo Airport (UUEE)
Scenery/charts/routes:
Please visit: https://www.dropbox.com/s/9g7wnd0mxf6oxi7/Cross%20The%20Eurasia%202015%20Important%20information.pdf?dl=0
Note:
China and Mongolia use RVSM in metric system.
Please refer to:
China: http://vatprc.net/index.php/en-chinese-rvsm
Mongolia: https://ais.mn/images/eAIP/valid/html/eAIP/ZM-ENR-1.7-en-MN.html#ENR-1.7
Booking your flight
Please visit: http://events.vatsim-uk.co.uk/cea2015/
About your Booking :
1.Your log in details: your VATSIM ID and Password.
2.Your name is the important evidence for booking system, please make sure you will use the same name at the event as you register! Thank You!