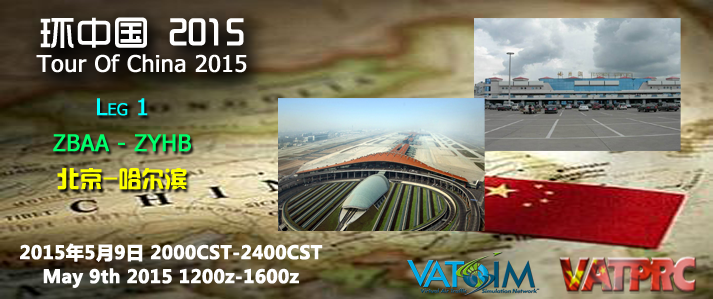 Have you participated our "Tour of China 2014" event last year? VATPRC is pround to announce "Tour of China 2015" this year. During the four months, we will take you around China and show you the diverse landscapes of the country.
This week, we will take you from Beijing, the capital of China, to Harbin, the "Ice City". Come and join us on May.9th with our professional and friendly controllers. We are looking forward to seeing you on the scope.
Event date and time
Saturday, May 9th, 2015, 1200z – 1600z, 2000CST – 2400CST

Featuring Airports
Beijing Capital International Airport (ZBAA)
Harbin Taiping International Airport (ZYHB)
Routes
ZBAA – ZYHB
CDY G212 FYU
Charts
eAIP People's Republic of China (AIP -> AD)

Scenery
Beijing Capital International Airport (ZBAA)
[FSX-FREEWARE] [XPLANE10-FREEWARE]
RVSM Rule
China implement RVSM in Metric level system. For details, Please visit Chinese RVSM
VATPRC 有你更精彩
You make the difference!