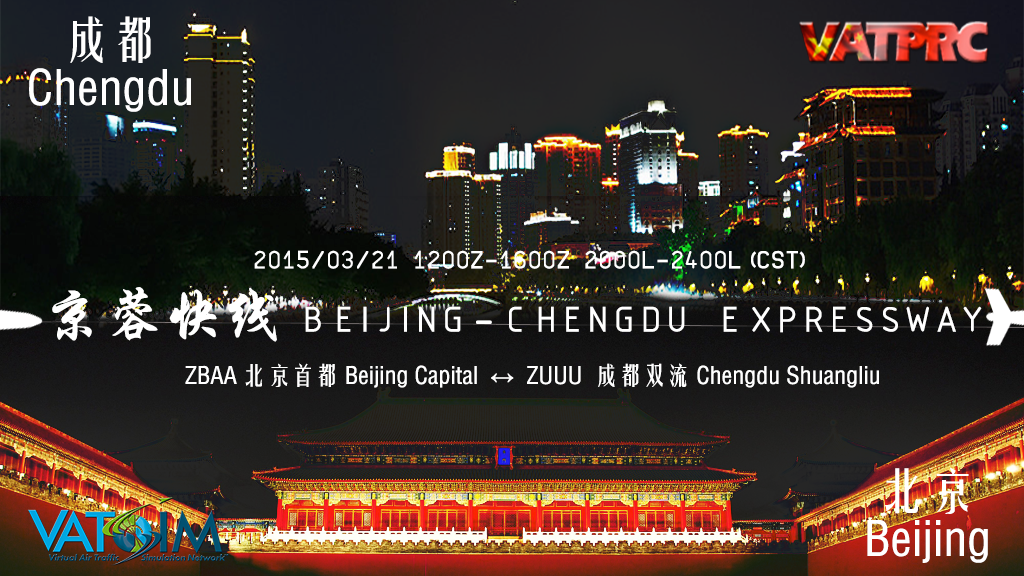 As always, our controllers are back on our series event which is between the roast duck city and hot-pot city in China — Beijing to Chengdu, wish your guys join this gourmet trip!
Event data and time
Saturday, March 21st, 2015, 1200z – 1600z, 2000CST – 2400CST
Featuring Airports
ZUUU Chengdu Shuangliu International Airport
ZBAA Beijing International Airport
Route
ZBAA – ZUUU
RENOB G212 NUGLA W514 OD G212 SUBUL W29 WFX
ZUUU – ZBAA
JTG G212 OKVUM W134 UBLAT B215 BOBAK
Charts
eAIP People's Republic of China (AIP -> AD)
Scenery
Beijing International Airport (ZBAA)
[FSX-FREEWARE] [XPLANE10-FREEWARE]
Chengdu Shuangliu International Airport(ZUUU)
[FSX-FREEWARE] [XPLANE10-FREEWARE]
RVSM Rules
China implement RVSM in Metric level system. For details, Please visit Chinese RVSM
VATPRC 有你更精彩!
You make the difference!