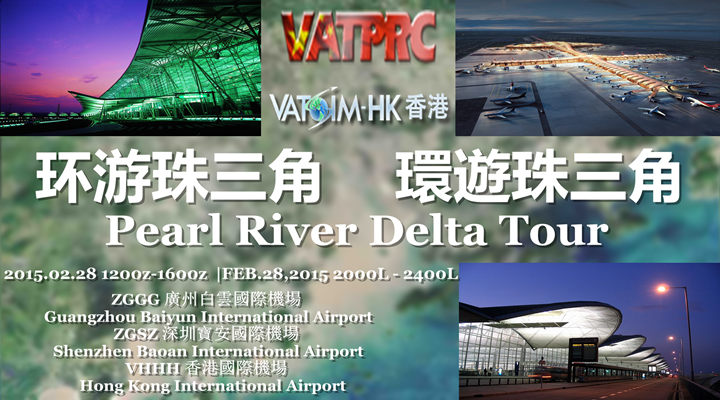 VATPRC and VATSIM HK vACC invite you to join our Pearl River Delta Tour between Guangzhou, Shenzhen and Hong Kong. Come and join us on Feb.28 between 1200z and 1600z, and we are looking forward to seeing you on the scope!
Event data and time
Saturday, February 28th, 2015, 1200z – 1600z, 2000CST – 2400CST
Featuring Airports
ZGGG Guangzhou Baiyun International Airport
ZGSZ Shenzhen Bao'an International Airport
VHHH Hong Kong International Airport
Route
VHHH – > ZGGG
BEKOL A461 IDUMA
ZGGG -> VHHH
VIBOS R473 SIERA
VHHH -> ZGSZ
BEKOL
Charts
eAIP People's Republic of China (AIP -> AD)
http://www.eaipchina.cn/
RVSM Rules
China implement RVSM in Metric level system. For details, Please visit Chinese RVSM
http://www.vatprc.net/index.php/en-chinese-rvsm
VATPRC 有你更精彩!
You make the difference!