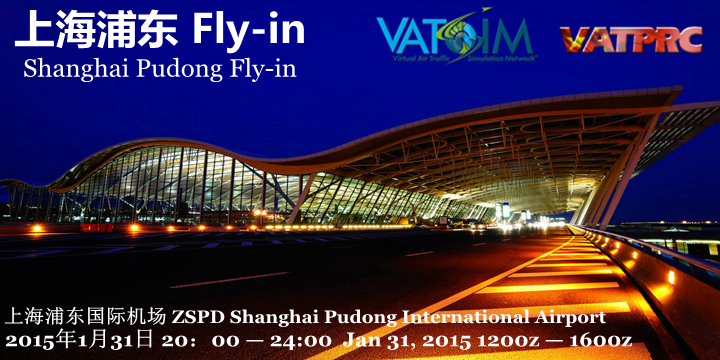 Our classic yet exciting event returns! Fly into or out of the third largest airport in China by passenger traffic and the third busiest cargo airport in the world as we fully staff Shanghai Pudong International Airport, as well as Shanghai Approach and Control. Shanghai-Hongqiao TWR will also be online in case you need a ferry flight between the two airports, or just want to avoid congestion. Hope we will see you there!

Event Time
Sat, Jan. 31, 2015 1200z-1600z, 2000L-2400L

Location
ZSPD Shanghai Pudong International Airport

Charts
eAIP People's Republic of China (AIP -> AD)
http://www.eaipchina.cn/

Recommended Scenery
ZSPD Shanghai Pudong International Airport
[FSX-PAYWARE] [FSX-FREEWARE][FS2004-PAYWARE][XPLANE10-FREEWARE]

Additional Information
The fourth runway at ZSPD, RWY 16L/34R will open in March, 2015, therefore will not be used in this event. Please refer to AIRAC 1501 and eAIP China 1501 for the current information.

VATPRC 有你更精彩!
You make the difference!