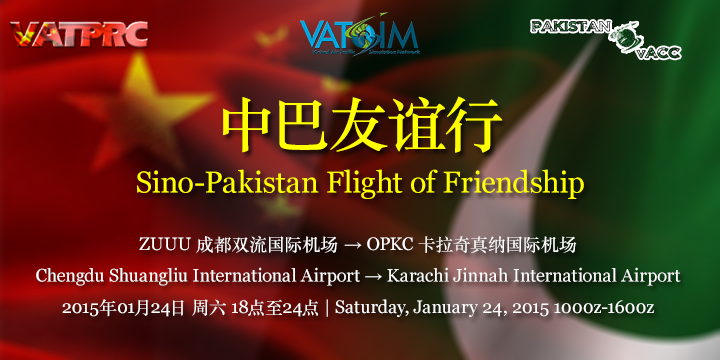 VATSIM P.R.China Divison and Pakistan vACC delightly invite you to join the first event between us. Come and join us on this Saturday evening with our well-trained and friendly ATCs. See you on the scope!
Event Date and Time
Saturday, January 24th, 2015, 1000z – 1600z, 1800CST – 2400CST
Featuring Airports
ZUUU Chengdu Shuangliu International Airport
OPKC Jinnah International Airport
Route
ZUUU -> OPKC
CZH B213 LXA B345 TUMLI G348 KTM L626 DPN G333 TIGER G452 RK J112 ZOHAR J162 BIMLA R471 NH
Chats
eAIP People's Republic of China (AIP -> AD)
Jinnah International Airport

Scenery
Chengdu ShuangliuInternational Airport
[FSX-FREEWARE] [XPLANE10-FREEWARE]
Jinnah International Airport
RVSM Rules
China implement RVSM in Metric level system. For details, Please visit Chinese RVSM
VATPRC 有你,更精彩!
You make the difference!