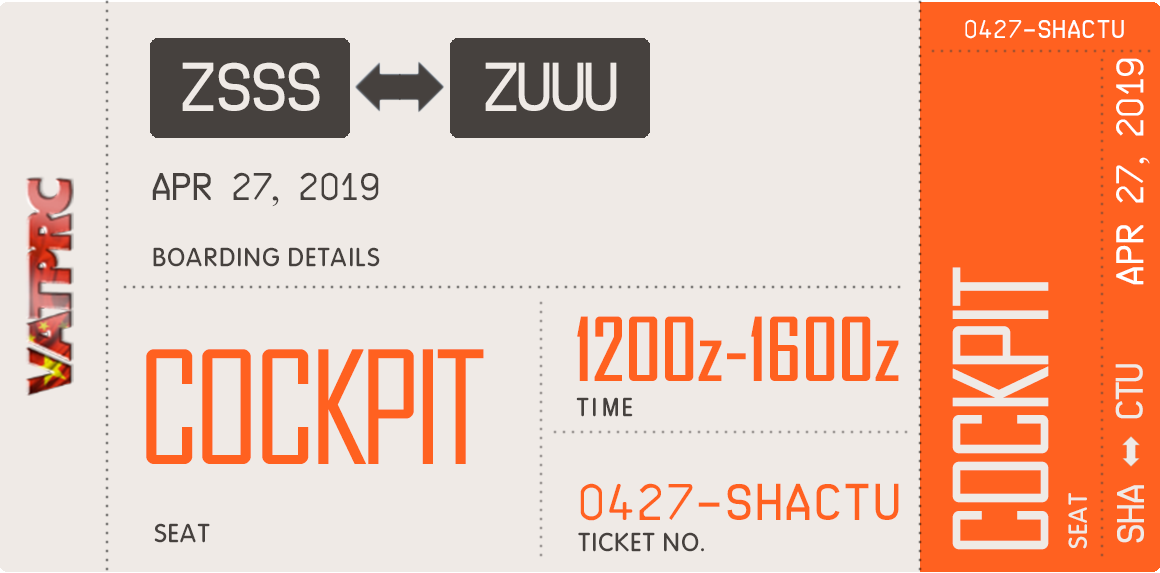 Shanghai -Chengdu Expressway is named the third busiest airway after Beijing-Shanghai and Beijing-Guangzhou. Fly and lighten the airway with us this weekend!

Event Date and Time
Saturday, April 27th, 2019, 1200z – 1600z, 2000CST – 2400CST

Featuring Airports
Chengdu Shuangliu International Airport(ZUUU)
Shanghai Hongqiao International Airport(ZSSS)

Routes
ZSSS-ZUUU
PIKAS G330 PIMOL V14 NOBEM W73 VEMEX W163 HFE R343 WHA B213 ENH V38 GAO B213 TEBUN

ZUUU-ZSSS
OGOMO W26 GAO V38 ENH B213 WHA R343 SASAN

Charts
Pilot Center by VATPRC

Scenery
Shanghai Hongqiao International Airport (ZSSS)
[FSX/X-PLANE-FREEWARE]
[FSX/P3D-PAYWARE]
[P4D-PAYWARE]

Chengdu Shuangliu International Airport(ZUUU)
[P3Dv3/v4-PAYWARE][FSX/X-Plane-FREEWARE]

RVSM Rule
China implement RVSM in Metric level system. For details, Please visit Chinese RVSM

VATPRC有你,更精彩
You make the difference!