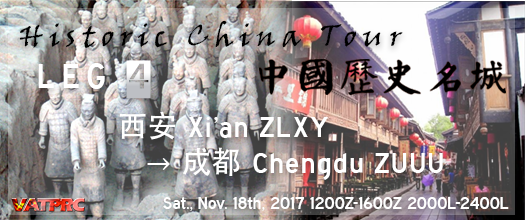 This fall, VATPRC is on tour! Join us as we present to you many of the historic cities in China.
For the 4th leg, we will depart Xi'an for Chengdu, the capital of Sichuan province.
The surrounding Chengdu Plain is also known as the "Country of Heaven" (Chinese: 天府之国; pinyin: Tiānfǔ zhi Guó) and the "Land of Abundance". Its prehistoric settlers included the Sanxingdui culture. Founded by the state of Shu prior to its incorporation into China, Chengdu is unique as a major Chinese settlement that has maintained its name (nearly) unchanged throughout the imperial, republican, and communist eras. It was the capital of Liu Bei's Shu during the Three Kingdoms Era, as well as several other local kingdoms during the Middle Ages. After the fall of Nanjing to the Japanese in 1937, Chengdu briefly served as the capital of China. It is now one of the most important economic, financial, commercial, cultural, transportation, and communication centers in Western China. Chengdu Shuangliu International Airport is one of the 30 busiest airports in the world, and Chengdu Railway Station is one of the six biggest in China. Chengdu also hosts many international companies and more than 12 consulates. More than 260 Fortune 500 companies have established branches in Chengdu.
Time
Saturday, Nov. 18th, 2017 1200z – 1600z 2000CST – 2400CST

Airports
ZLXY Xi'an Xianyang International Airport
ZUUU Chengdu Shuangliu International Airport
Route
NSH G212 PANKO

Scenery
ZUUU Chengdu Shuangliu International Airport
[FSX-FREEWARE]

VATPRC有你,更精彩
You Make the Difference