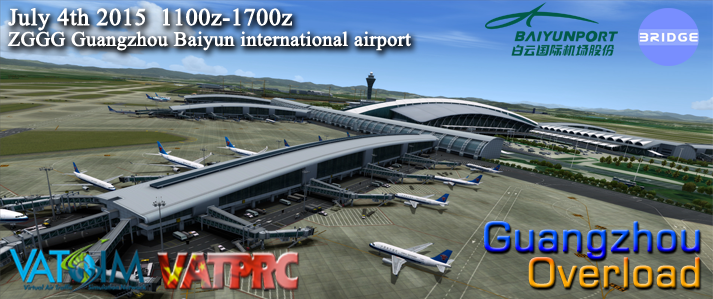 VATPRC (VATSIM P.R.China Division) would like to proudly introduce you our new-launched event brand Guangzhou Overload.

Guangzhou Overload will be held annually. This year, Guangzhou Overload 2015, has been planned to start on July 4th 2015 from 1100 to 1700 UTC. VATPRC will be organizing our experienced controllers and applying deliberated real procedures for presenting you an extraordinary flying experience.

You would expect dense traffic around, parallel approaching , holding patterns and late landing clearances which you certainly cannot experience in usual flying at VATSIM.

There are no constraints! you can fly to your prefer destination from Guangzhou and also you can carefully calculate your arrival time landing in Guangzhou. Using mastering aircraft, since it will essentially require you to configure your jet frequently and precisely during the event.

For more Charts, Scenery and Surprise please visit http://gz.vatprc.net/

PS: Since Guangzhou Baiyun Airport new runway has operated in early this year, we do suggest you to visit Details to update your Guangzhou Baiyun Airport scenery in your Flight Simulation. Thank you for your cooperation.

VATPRC 有你更精彩
You make the difference!