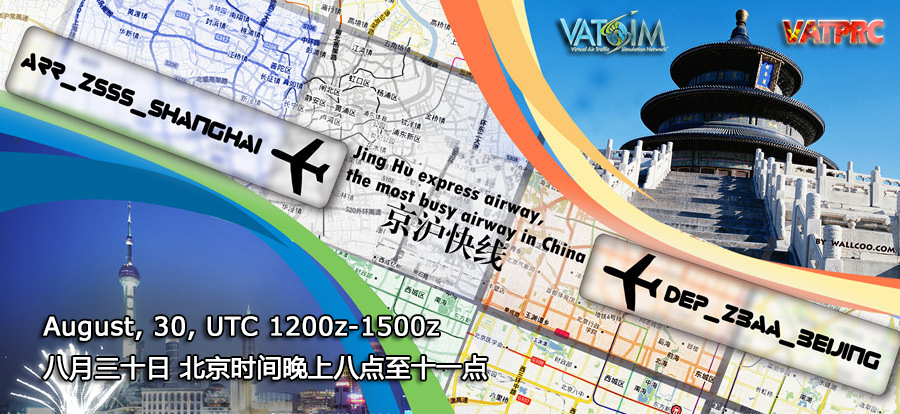 After the 3-month-long "Tour of China" event, one of VATPRC's major events, Jing-Hu Expressway, is coming back!
Come and fly with us on August 30, 2014, from 1200z to 1500z. At that time, our well-trained and friendly ATC controllers will provide you with a full ATC services, covering both the Beijing FIR (ZBAA) and Shanghai FIR (ZSPD).
We will be looking forward to seeing all of you at our most exciting event yet, the Jing Hu Expressway!
Event Date and time
Saturday, August 30, 2014, 1200z-1500z, 2000L-2300L
Feature Airports
Beijing Capital International Airport (ZBAA)
Shanghai Pudong International Airport (ZSPD)
Shanghai Hongqiao International Airport (ZSSS)
Route
ZBAA-ZSPD/ZSSS
LADIX V31 YQG W142 DALIM A593 VMB W161 SASAN
PIKAS G330 PIMOL A593 VYK
Charts
Scenery
Beijing Capital International Airport
Shanghai Pudong International Airport (ZSPD)
Shanghai Hongqiao International Airport
RVSM Rules
China implement RVSM in Metric level system. For details, Please visit
Chinese RVSM