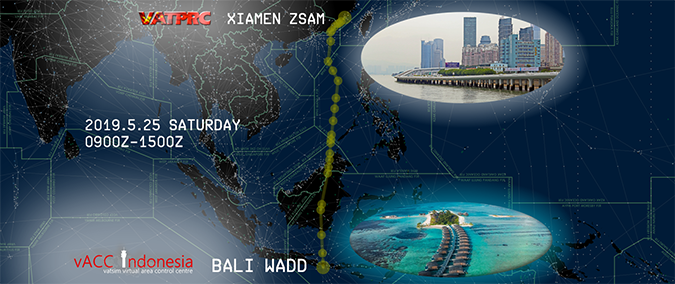 It is our first time organizing an event with Indonesia.
All pilots are welcome!

The flight time is quite long, may all the crews prepare your meal and coffee on board, and enough fuel as well.

NOTAM:
China airspace implements China-RVSM rules, please refers to the link: http://www.vatprc.net/index.php/en-chinese-rvsm

Event Time
Saturday, 25,May, 2019, 0900Z-1500Z

Airports
Xiamen Gaoqi Airport (ZSAM)
Ngurah Rai International Airport (WADD)

Routes

ZSAM-WADD:
NUSPA W597 IKATA A470 DOTMI DCT MONTA DCT SABNO A583 AKOTA M754 VINIK M522 GALKO


Recommended Scenery
WADD:
[FSX/P3D-PAYWARE]
[XPLANE11-PAYWARE]
[XPLANE-FREEWARE]

ZSAM
[FSX/P3D-FREEWARE]
[P3D-PAYWARE]
[P3DV4-PAYWARE]
[FSX-PAYWARE]

Charts
ZSAM:
[VATPRC-Pilotcenter Charts]
WADD:
[Google Drive]

VATPRC 有你更精彩
You make the difference!