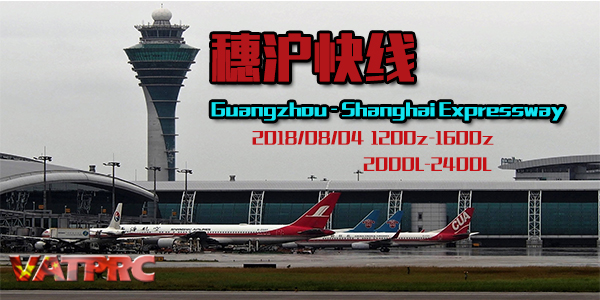 Guangzhou-Shanghai Express is named the third busiest airway after Beijing-Shanghai and Beijing-Guangzhou. Fly and lighten the airway with us this weekend!

Event Date and Time
Saturday, August 4th, 2018, 1200z – 1600z, 2000CST – 2400CST

Featuring Airports
Guangzhou Baiyun International Airport(ZGGG)
Shanghai Hongqiao International Airport(ZSSS)

Routes
ZGGG – ZSSS
LMN G471 PLT A599 ELNEX G204 UGAGO W507 DSH W505 SUPAR B221 AND

ZSSS – ZGGG
NXD A599 PLT W19 MABAG W44 IGONO

Charts
Pilot Center by VATPRC

NOTAM: Since Guangzhou Baiyun Airport(ZGGG) new runway has operated in 2016, we strongly suggest you visit scenery to update your Guangzhou Baiyun Airport (ZGGG) scenery in your simulator. Thank you for your cooperation.

Scenery
Shanghai Hongqiao International Airport (ZSSS)
[FSX/X-PLANE-FREEWARE]
[FSX/P3D-PAYWARE]
[P4D-PAYWARE]

Guangzhou Baiyun International Airport (ZGGG)
[FSX/P3D-PAYWARE][FSX/P3D-FREEWARE]

RVSM Rule
China implement RVSM in Metric level system. For details, Please visit Chinese RVSM

VATPRC有你,更精彩
You make the difference!