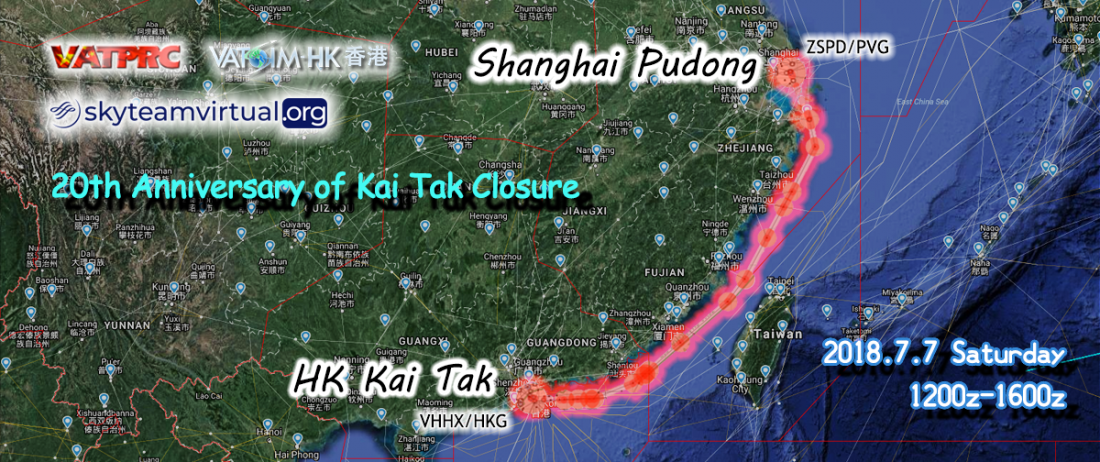 Event Date and time
2018.07.07 1200z-1600z 2000-2400L

Featured Airports
Shanghai Pudong International Airport (ZSPD)
Hong Kong Kai Tak International Airport (VHHX)

Route
ZSPD – VHHX
HSN W13 BEGMO M503 LELIM V591 MAGOG
VHHX – ZSPD
DOTMI A470 LJG B221 SHZ W58 BK
Backup Plan
ZSPD – VHHH
HSN W13 BEGMO M503 LELIM V591 ABBEY
VHHH – ZSPD
LAKES V1 DOTMI A470 LJG B221 SHZ W58 BK

Charts
VATPRC – Pilot Center
Hong Kong AIP

Scenery
Shanghai Pudong International Airport (ZSPD)
[FSX/P3D/P3DV4-PAYWARE] [FSX/P3D-FREEWARE]
Hong Kong Kai Tak International Airport (VHHX)
[FS9/FSX/P3D/P3DV4-PAYWARE] [FSX-FREEWARE]-AVSIM
Hong Kong International Airport (VHHH)
[FS9/FSX/P3D-PAYWARE] [FS9/FSX-PAYWARE]
NOTAM
1. Please install navigation database as lastest as possible as there will be more likely having data for Kai Tak Airport.
2. When operating south-bound on M503 airway, expect a right offset of 6nm from PONEN to LELIM. If you unable to execute this, please let our controllers know in advance. Otherwise, it may lead to a route change or holding.

RVSM Rules
Mainland China implements RVSM in a Metric level system. For details, Please visit Chinese RVSM

VATPRC 有你更精彩!
You make the difference!