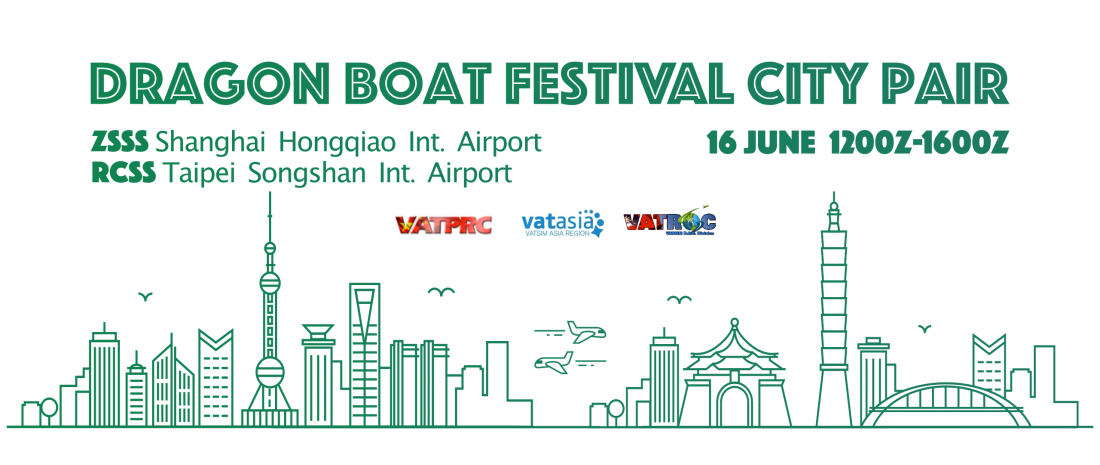 Dragon Boat Festival City pair RCSS-ZSSS at 1200z-1600z on June 16th. This event is held by VATPRC and VATROC. Join us together!

Event Date and time
2018.06.16 1200z-1600z 2000-2400L

Featured Airports
Taipei Songshan Airport (RCSS)
Shanghai Hongqiao International Airport (ZSSS)

Route
RCSS-ZSSS
PIANO L3 VIOLA R596 DST B221 SHZ G204 AND
Available altitude:FL250 / FL290 / FL370

ZSSS-RCSS
NXD A599 TOL A470 BZ R596 BERBA B576 APU
Available altitude:7200m[FL246] / 8400m[FL276] / 10400m[FL341]

Charts
ZSSS
eAIP Taipei FIR
http://eaip.caa.gov.tw/

Scenery
Shanghai Hongqiao International Airport (ZSSS)
[FSX/P3D-PAYWARE]
[P4D-PAYWARE]
[FSX/X-PLANE-FREEWARE]

Taipei Songshan Airport (RCSS)
[FSX/P3D-FREEWARE]
NOTAM
There is a free Taipei City scenery including RCSS and Taipei City for FSX/FSX-SE/P3D/P3Dv4.
1. The installation password is TEWQNOONE.
2. If you choose the SODE jetways during installation, they will disappear in many situations. It is a known bug and it will be fixed by the author.
3. After installing this scenery, you need to add three scenery folders into your flight simulator manually and set the building density by using the ConfigTool.exe which is in Addon Scenery\Taiwan Scenery\Taipei City\.
4. Please check the manual in the same folder with the ConfigTool.exe to understand how to install this scenery correctly, or you might have a scenery error.
5. It's been recommended to set low density for both 5 areas of Taipei City Building. Higher density, lower FPS.

RVSM Rules
Mainland China implement RVSM in Metric level system. For details, Please visit Chinese RVSM

VATPRC 有你更精彩!
You make the difference!