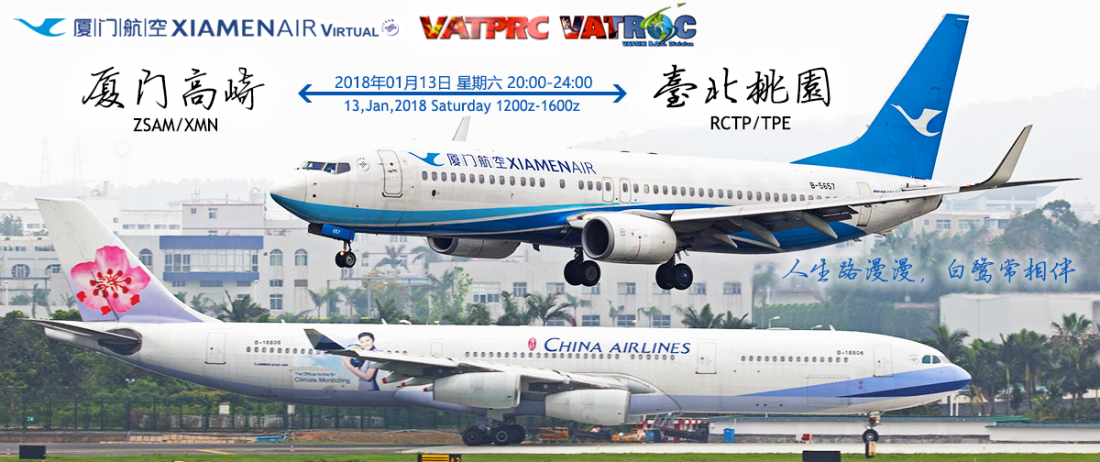 Happy new year to every pilot!
We're pleased to host our first live flight event in 2018 with VATROC and VATPRC, crossing the Taiwan strait from Xiamen to Taipei and vice versa, to send our most sincere greetings to Taiwanese pilot from the Xiamen Air Virtual and from the mainland China!
We encourage everyone to participate, however please get yourself familiar with the Taiwan airspace classification, rules and SID/STAR before you fly to avoid unnecessary conflicts.
We wish everyone had a wonderful holiday and summon their goals and new-year resolutions in 2018!
Photo Provider:Yimo Zhang
Event Time
Jan 13, 2018, Sat. 1200z – 1600z
Airports
Xiamen Gaoqi International Airport (ZSAM)
Taipei Taoyuan International Airport(RCTP)
Route and Level
ZSAM-RCTP [FL290 only]
NUSPA W597 IKATA A470 BEBEM R200 EXTRA M750 TONGA
RCTP-ZSAM [FL280 only]
MKG A1 ANPOG R200 BEBEM A470 TEBON
Recommend Scenery
Xiamen Gaoqi International Airport (ZSAM)
[FSX/P3D-PAYWARE] [FSX/P3D-FREEWARE]
Taipei Taoyuan International Airport (RCTP)
Freeware Scenery by Rudolf Liu, Formosa Group at avsim.net
Charts
eAIP Taipei FIR eAIP China-IOS eAIP China-Android
人生路漫漫,白鹭常相伴。 厦门航空
访问我们的网站,成为CXAvirtual的成员: http://www.cxavirtual.com/
VATPRC有你,更精彩
You make the difference!