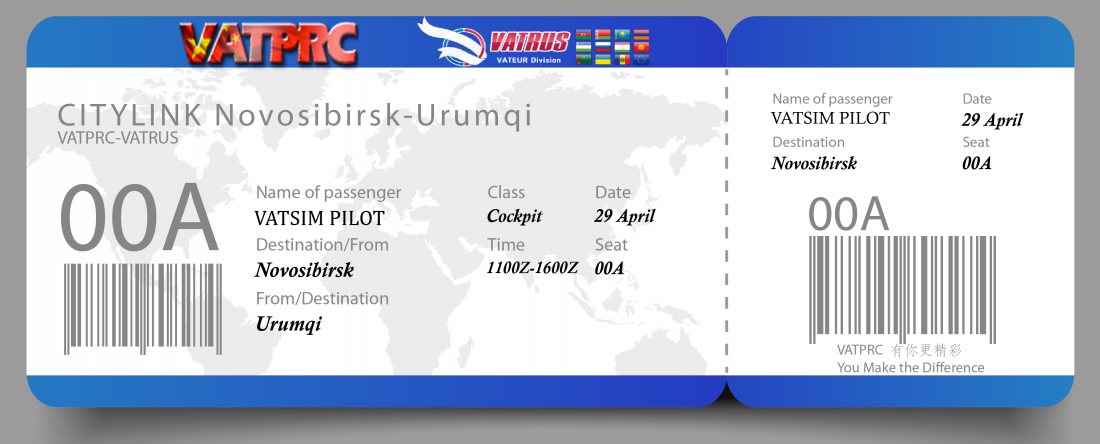 VATPRC and VATRUS invite pilots to their brand new event between Urumqi and Novosibirsk! Come celebrate the first day of the International Labor Day (May Day) weekend as we staff up ZWWW and UNNT with our best controllers. See you there!
Event Date and time
Saturday, April 29, 2017, 1100z – 1600z, 1900CST – 2400CST

Featuring Airports
Urumqi Diwopu Internetional Airport (ZWWW)
Novosibirsk Tolmachevo Airport (UNNT)

Route
ZWWW-UNNT
FKG G588 NIRAV B206 LANBI A814 ARNUL B206 EB

UNNT-ZWWW
IPLEN B228 KUDEB B206 ARNUL A814 LANBI B206 NIRAV G588 FKG
Charts
eAIP People's Republic of China (AIP -> AD)

Scenery
Urumqi Diwopu International Airport (ZWWW)
[FSX-FREEWARE]
Novosibirsk Tolmachevo Airport (UNNT)
[FS9/FSX/P3D/XP10-FREEWARE]
RVSM Rule
China implement RVSM in Metric level system. For details, Please visit Chinese RVSM
VATPRC 有你更精彩
You make the difference!